LeapFrog LeapPad 3 Review
Introducing the LeapFrog LeapPad 3
The great thing about Leapfrog is that they keep innovating and coming out with excellent toys for kids.   That is exactly what they did with the newest addition to the Leappad family of tablets for kids.   The LeapPad 3 is sure to be on every young child's list and it is sure to be a hot seller this year.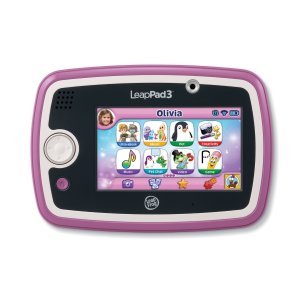 What Leapfrog has done is truly remarkable.   They have taken the best features of the LeapPad Ultra and the LeapPad 2 and put them together to make the LeapPad 3.   The 5 inch capacitive touch screen is 480×268 pixels. This makes the LeapPad 3 have the same size screen as the LeapPad 2.  Yet, the built in Wi-Fi and 480p video recording make it similar to the LeapPad Ultra.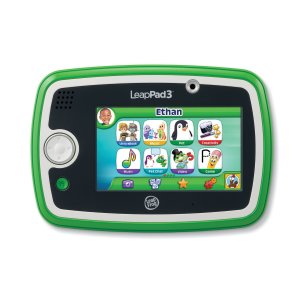 The LeapPad 3  is one of the best tablets for kids available today.   There are well over a thousand educational games and apps that are created by educators.   The games work snappy with the fast micro processor and ample ram.   As a teacher, I am always researching the latest trends in childhood education.    These games are not only super motivating, but they also leverage the latest educational research.  They actually reinforce over 2,600 skills in science, reading, math, social studies and creativity.  I am amazed on how the skills are internalized while children are playing.
One of the things I really like about the LeapPad 3 is that it actually customizes the teaching to the child's level.   This really personalizes it to the child.   The games actually adjust in difficulty based on the child's ability and provide just the right level of challenge without frustration.   The LeapPad 3 comes with 10 apps valued at $70 if they were purchased separately.   All of the LeapPad 1 and 2 games also work on this kid's tablet as well!
You Can Find The Best Price For The LeapFrog LeapPad 3 HERE.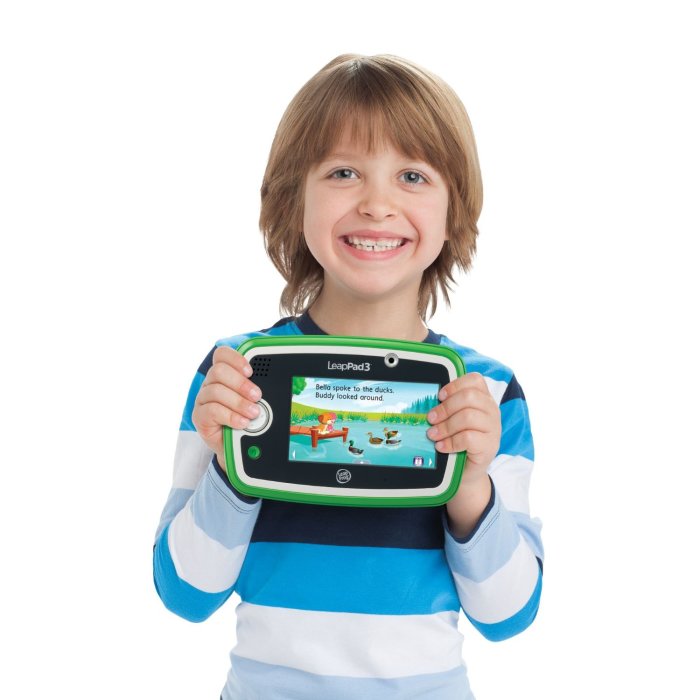 The Apps Included with the LeapPad 3 are:
Music Player
Pet Pad Party
Pet Chat
Photo Fun Ultra
Calculator
Notepad
Clock
Calendar
Voice Memo
And children can choose one app from LeapFrog's library of educational games.
Can the LeapPad 3 Hold Up To My Kid?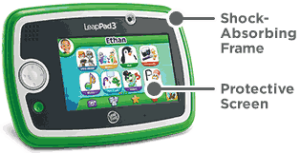 Yes! The LeapPad 3 is super ruggedized, too.    This kid's tablet is equipped with a shock absorbing frame and a shatter-safe protective screen.  They actually drop test the LeapPad 3 over and over again to ensure that it will last even with them most demanding children.  There is no need for having to run to the store for batteries with the LeapPad 3!   It is equipped with a rechargeable lithium ion battery that will provide power for over 6 hours of playing.    It takes approximately 4 hours to charge the LeapPad 3 using an included power adapter.
Can The LeapPad 3 Connect To The Internet?
Leapfrog has designed the LeapPad 3 with WiFi.   This makes it easy for your child to connect to the Internet wirelessly.  WHAT!  CONNECT TO THE INTERNET!   Yes, but no worries!   The leapPad 3 has Kid Safe Web.   There is a search engine called LeapSearch which is powered by Zui.  This provides limited access to the web to only kid safe, educator approved content.  This has been a great feature of the LeapPad Ultra, too!   You can be at ease knowing that your child will only have access to pre-screened content.

Another benefit to the Wi-Fi that is built into the LeapPad 3 is Peer-to-Peer Play.    This allows children to connect their LeapPad 3 tablets wirelessly to each other so that they can play together.   In the Kart Racing game, children would need to answer a math question that is customized to each child's individual level.   After answering the math question, they can race their karts against each other.
 You Can Find The Best Price For The LeapFrog LeapPad 3 HERE.
LeapFrog LeapPad 3 Specifications
Screen

5-inch backlit Capacitive touch screen

Resolution

480×268

Rechargeable battery

Built-in lithium ion

Battery life

6+ hours

Front-and-back camera

2MP front and back

Video Recorder

480p video recording

Kid-Safe Wi-Fi

Yes – 802.11 b/g/n

Kid-Safe Web Browsing

LeapSearch

Speed

1000MHz

Memory Size

4GB

Manufacturer's Warranty

12 months

Access to a library of over 1000 educational games

Yes

Included apps value

10 apps, $70 value

Peer-to-peer play with other LeapPad 3 tablets

Yes

Automatically adjusts difficulty to child's skill level

Yes

Recommended age range

3-9 years

Weight (lbs.)

0.85

Dimensions (in.)

7.5 x 5.2 x 1
The LeapPad 3 is usually found at around $100.    If you are looking for the best price on the LeapPad 3, you can find it here.
I hope you enjoyed this review of the LeapFrog LeapPad 3.   LeapFrog truly makes the best educational toys for children.   If you are looking for a Wi-Fi enabled kid's tablet at an amazing price point, then you can't go wrong with the LeapPad 3.  Make your child thrilled this holiday season.