Innotab 3s – A Comprehensive Review Of A Kid's WiFi Tablet
VTech InnoTab 3s
A Comprehensive Review
Hello, it is Sara back here with another article on Leap Frog Pad.   Today, I am going to do a comprehensive review on the VTech InnoTab 3s, which is similar to the Leappad 2 Power, but it has WiFi.   I believe WiFi Kids Tablets are latest hot toys for kids.
UPDATE: Recently, there have been some great sales on Innotab 3s bundles. I have posted the details and will keep updating my VTech Innotab 3s Bundle page as new opportunites present themselves.

My son's friend had gotten a Innotab 3s for his birthday, so I asked his mom if I could borrow it for a day or so, that I could evaluate it.   I think it was easier for her to say ok, then her son 🙂 .   I had the Vtech tablet for about a day and got a chance to put it through its paces.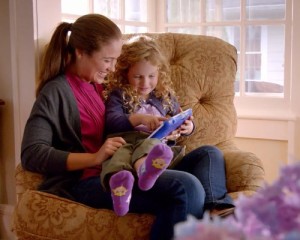 While not as powerful as the Leappad Ultra, the Vtech InnoTab 3s is a pretty cool device.   Like the Leapfrog Leappad, the Vtech Innotab is a ruggedized, kid-tough tablet.   Equipped with an MP3 music player, e-reader and other features found on adult tablets, I believe that the VTech Innotab 3s can grow with your child from as early as preschool to middle school.  Like the Leappad 2 Power, I like that it comes with rechargeable batteries.   Batteries are a hidden cost when it comes to how much a toy really costs.    A cheaper toy that used disposable batteries will cost you much more in a short period of time.
Let's put the VTech InnoTab 3s under a microscope:
InnoTab 3sLearning Tablet
The InnoTab 3S features VTech Kid Connect, which is a communication app that allows kids to communicate with their parents and friends through both tablet-to-mobile and tablet-to-tablet communication.   I am not sure how I feel about this.  While today's kids are growing up in a Texting Messaging world, it may be a little too young to start kids on texting other kids.
The

VTech InnoTab 3s

comes with a rechargeable battery pack with AC adapter.
Like the Leapfrog Leappad Ultra, the VTech Innotab 3s has a kid-safe web browser.
The Vtech InnoTab 3s has access to VTech's Learning Lodge app store, which is similar to LeapFrog's online store for downloading apps, games and e-books.
The VTech InnoTab 3s also comes with 20 free apps out of the box
There is an app called Wonder Cam that lets kids edit photographs and add photo frames, funny faces and  more than 55 special effects to their photos.
The Innotab 3s is currently the only Innotab with WiFi capability.   Like the Leapfrog Ultra, this is a huge plus, in my opinion.  The wifi was easy to connect up to my home wireless network.
At under $100, the price is very attractive.
The name of the texting app is VTech Kid Connect.  Little kids feel like Big Kids, since they can text like their peers and parents.  All communication is needs to be approved by parents.
Similar to the Leappad, the Innotab 3s has a kid-safe web browser that allows access only to websites that have been approved by VTech's team of educational experts.  Parents also have the ability to grant access to additional websites, too.  This parental control is locked down by a password that only a parent should know, so that kids can't add websites without their parents' permission.  Since the kids of today are smarter and smarter, I would make sure you choose a password that the kids can't easily guess.
The VTech InnoTab 3s has 4 GB of internal memory pre-installed.  You can add an optional Micro SD Card as large as 32GB. This is great, since the Innotab 3s has a 2 megapixel camera.    The extra storage will allow your child to store pictures and video.
Just like Leapfrog, VTech has apps for this kid's tablet that are produced by the same household name you already know, like Disney and Pixar.   The content is very motivating and fun for kids, while providing learning.   One of the things you need to know is that you can't install apps that are not designed for the Innotab 3s.    You can't play Candy Crush, Fruit Ninja or Angry Birds on this device, which I feel is a good thing.
So, there you have it, my review on this Kids Learning Tablet.    While I believe the VTech Innotab 3s to be an excellent product,  it is not the Leapfrog Leappad Ultra.    It is more like the Leappad 2 with Wifi, like I stated earlier.    If the Leappad Ultra didn't exist,  I would think this was the greatest device out due to the WiFi, but I believe the Leapfrog Leappad Ultra to be a superior device.   None the less, it is a great choice for any child.
I hope this review of the VTech Innotab 3s and my other posts have been helpful for you.
Bye for now,
Sara